This stop has Restrooms
Once an important stage stop on the Antelope Springs to Lake City toll road, this area has much to offer today's visitor. From the surrounding terrain, how surprised one is to learn that one of Colorado's most beautiful waterfalls is found and enjoyed here. Simply follow the signs to the parking area, take a short walk and Voila! – There are the falls! Be sure to hold onto your pets and children while enjoying this area. For your safety, please stay behind the fence and railings.
From the parking lot, a trail takes you east to a knoll, which offers a breathtaking view of Bristol Head Mountain, the Santa Maria Reservoir and other Rio Grande headwaters reservoirs and lakes.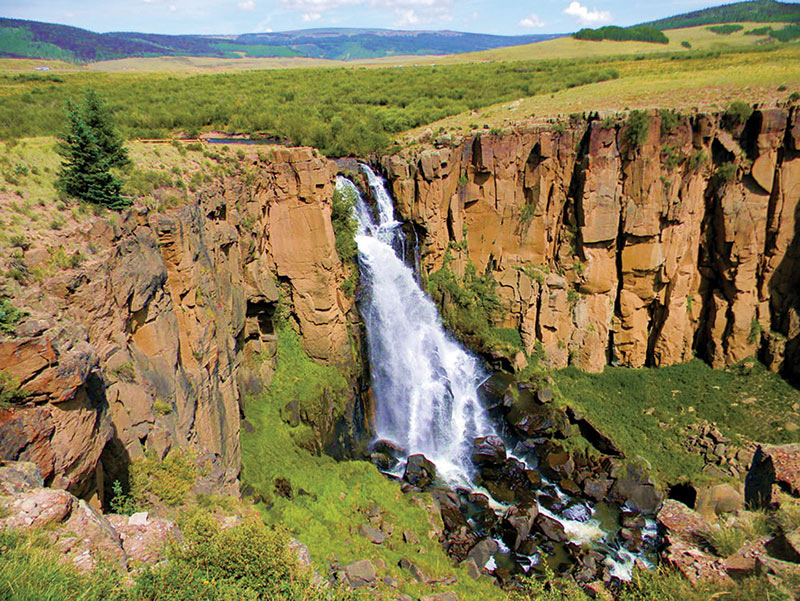 (EXTRA STOP) Wildlife Viewing Spot
The red-stemmed willows along Hwy 149 are the perfect setting for a moose sighting opportunity. Not far after the North Clear Creek Falls stop is a large pull-over area overlooking a large willow area where moose and other wildlife tend to hang-out. Binoculars may be useful at this location. Colorado Parks and Wildlife began introducing moose into this area in 1991. Over a two-year period, a total of 91 moose were released at the North Clear Creek Falls area. The moose were transported from northern Colorado, northeastern Utah and southwestern Wyoming.